Sunrise Readers Book 1 Friends Resources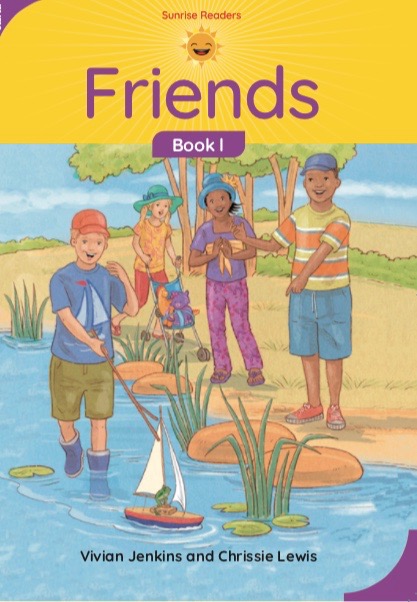 Resources to support teachers and parents in using Sunrise Readers Book 1 Friends are to be found here. Please comment and share ideas. It's our earnest desire to encourage and support you in this all-important venture – teaching young ones to read!
Powerpoint presentation of the Sunrise Children
Free downloadable worksheets for Activity Pages 12, 25 and 43
Read, write and colour worksheets Tatenda, David, Chipo & Jenny
Colour, read and write Pages 1 – 10.
Large classroom wordlist flashcards
Small and 3×3 wordlist flashcards
Character picture and name cards for matching and games
My first word book – free downloadable pdf by D. Green
How to use this book – What to do before giving the children their first reader!
Power point presentation: Meet the Sunrise Children
For those fortunate enough to have access to media in the home or classroom, this short powerpoint contains slides of the Sunrise Children, Tatenda, Chipo, David and Jenny – and their dog, Rex. This presentation will be particularly useful when first introducing the children. Suggestion: Initially spend one whole lesson each day thoroughly introducing the characters. Do your best to bring each one alive for your learner/s. We hope the Sunrise children will become each young learner's best friends!
Display Tatenda. Using questioning, introduce Tatenda to your learner/s:
This is Tatenda. How old do you think Tatenda is? (We think he and David are about 8 years old.) What is Tatenda wearing? What room in the house is Tatenda in? How do you know this? What do you think Tatenda's favourite colour may be? (There's lots of blue in the furnishing!) Do you like Tatenda's bedroom? Why, or why not? What is he playing with? Have you ever played with one of those? What do you see on the floor? How does this work? Have you played with one of these? Look at Tatenda's toys. What do you see? (Talk about the toy construction vehicles and cars, and what they do.) What do you see hanging from the ceiling? By looking at Tatenda's toys, what do you think Tatenda is most interested in? What might he want to be when he grows up? Why? Do you think Tatenda is a tidy or untidy boy? Why? Do you think Tatenda is a friendly boy? Why? Would you like to be his friend? There are many other questions you can ask to encourage the children to engage with Tatenda. e.g. If you went to play with Tatenda, which of his toys would you like to play with?
Powerpoint presentation -click the button below:
Remember to click the side arrow to initiate the text and audio, and to go to the next slide!
Activity Pages:
Book 1 has three activity pages. We have reproduced these for you so that you can download and print them (we imagine cost-effectively in black and white) for the children to write on. A blank line is included under each task for the child to copy the word/s to add more reinforcement/practice to the task.
Read, write and colour free downloadable worksheets Tatenda, David, Chipo & Jenny
Colour, read and write Pages 1 – 10 free downloadable worksheets.
Flashcards/ Word Cards
Large Classroom Flashcards/ Wordcards
The above flashcards/word cards are printed in the same font as is used in the Sunrise Readers text. They are large enough to be used with a large group of children. Remember to glue the lower-case word to the back of the same uppercase word so that you can flip it over and assist the learners in memorising the word, beginning with both upper case and lower case letters – as they will encounter them in Sunrise Readers Book 1 – Friends. Detailed instructions are included in the above PDF.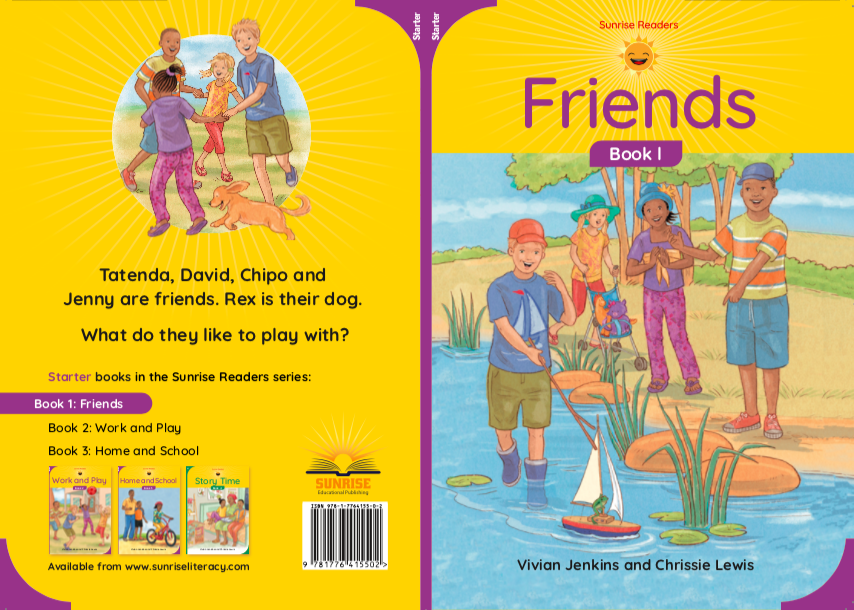 Smallest Flashcards/ Wordcards:
The above small flashcards are useful to be sent home with learners to review with their family members or care-givers. They are also useful for games as individuals or pairs. See detailed instructions for use of these in the PDF above.
Medium-Sized 3×3 Flashcards for games and review:
Picture and name flashcards for games and review: