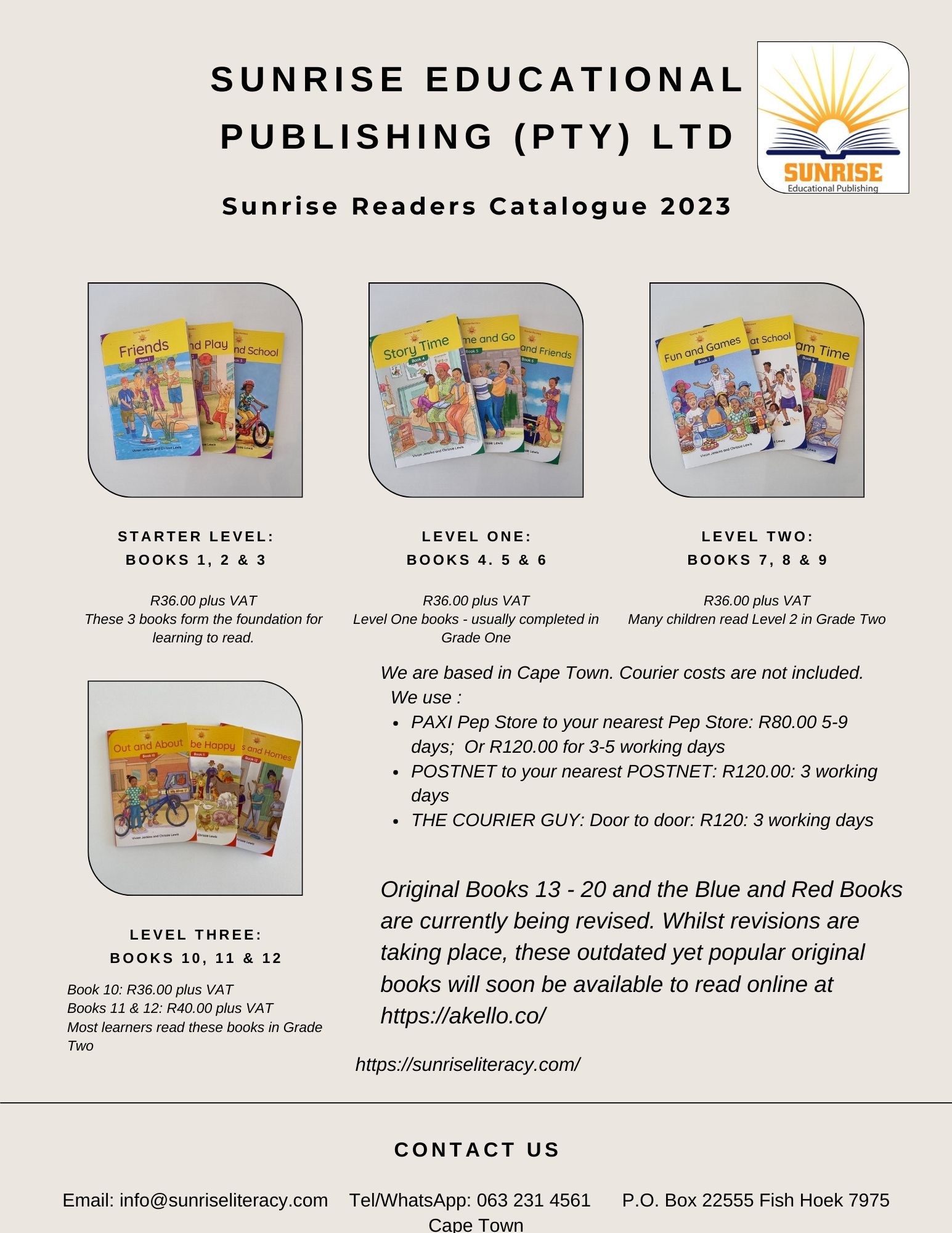 The Sunrise Readers Are a reading Scheme...
The Sunrise Readers are story books, written to make learning to read easy and exciting. They are relevant to the children of Africa, and to the diaspora beyond. The original Sunrise Readers have a proven track record of establishing literacy in Zimbabwe over the past thirty years.
The text is carefully crafted so that skills are acquired incrementally – almost automatically or organically - in tandem with the systematic learning of phonics.
The context is relevant to the multiracial children of Africa, and those living abroad. The artwork is bright and appealing, and the Sunrise Children become the readers' friends as they "do life" together. Other stories include folk tales, childhood literature, legends, and Bible stories. Learners are introduced to other genres including poetry, reading for information, and "how-to" instruction.
The stories sensitively convey our core values: respect, acceptance, honesty, kindness, courage and compassion.
FREE Sunrise Readers Teacher's Manual
A simple, user-friendly Teacher's Guide accompanies the Sunrise Readers Reading Scheme. For an interview with the authors discussing what you will find in the Teacher's Manual, please watch the video.
If you have any questions about the Sunrise Readers or the Teacher's Manual, please check out the FAQs below or feel free to contact us.
For the Sunrise Readers Teacher's Manual – a FREE downloadable PDF – just click the download button.
The Sunrise Readers were first written and published in 1984/1985 in Zimbabwe because there was a need for relevant, local material. 
Children need(ed):
• to be able to identify with books reflecting characters and context within their own experience
• character-building stories with good values
• fun stories and fables
• bright, colourful, attractive, and appealing books
• a combination of approaches for learning to read
• simple, effective and user-friendly books.
Children
Primarily - children in Africa, but these books will be enjoyed by children internationally.
Books 1–10 are appropriate for the first year that children are taught to read in English – Grade One in English-medium schools; Grade Three or Four – whichever grade English begins being taught in your school. Younger children will enjoy the pictures.
Teachers
They support teachers in their task of teaching reading. These time-tested books have proved to be an essential tool in early childhood classes. They include appealing Activity pages, and from Book 6 on, a 'Do this' exercise is included after every story. 
Parents
Parents love the Sunrise Readers and enjoy the opportunity to collaborate with their children's reading process by listening to the children practice reading at home or re-reading the stories to them.
Where teaching happens in English from preschool, with systematic teaching of sight words and phonics - as per the Teachers' Guide - an average reader will complete Sunrise Readers as follows:
Grade One: Sunrise Readers Books 1 – 10
Grade Two: Sunrise Readers Books 11 – 20
Grade Three: Sunrise Readers Blue Books 1 – 3
Grade Four: Sunrise Readers Red Books 1 – 3
You'll find more details here, including a breakdown of the books by school year.
In Zimbabwe, in urban schools where English is the language of instruction, an average reader will complete Books 1–10 in Grade One (usually 5–7 years old). The teachers have no other reading material available so they work systematically and steadily through the Sunrise Readers. In private schools, where there are a number of reading schemes available, the average child between 5–6 years of age may get to Book 7 or 8. 
In South Africa, or another country where children start school aged between 6–7, they would read Books 1–10 then. These books are geared towards the first year of literacy in English –the first year a child learns to read English.
Children with less English may read Books 1–5 in Grade 1 and Books 6 onwards in Grade 2, depending on how well their competency in English grows. If they have no English and are only learning English in Grade 3 or 4, Books 1–5 will be useful then.
Various abilities
The Sunrise Readers may be used to extend and stretch the more capable child, whilst still catering to those of average ability.